2022 has had an incredibly eventful start in our local real estate market. In January, the average list-to-sale price ratio (the percentage a house sells for in comparison to the list price) in King County was 105% and in Snohomish County it was 106%.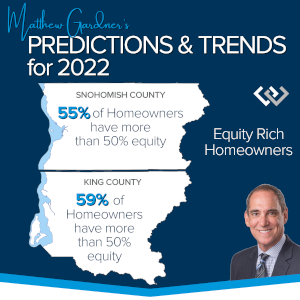 This is in conjunction with complete year-over-year median price appreciation (the last 12 months of price growth averaged and compared to the previous 12 months of price growth) of 15% in King County and 23% in Snohomish County. In fact, 59% of homeowners in King County have more than 50% home equity and 55% of homeowners in Snohomish County have over 50% home equity.
With that said, how does one navigate successfully transitioning that equity to their next move, and who do they choose to help them with the job? With inventory at an all-time low and interest rates still hovering around 4%, buyer demand is high. There is no denying that homes sell quickly in this environment and oftentimes for over list price due to multiple offers. There are many different business models available to consumers when selecting who they align with to help them make this very important move. There are brokerages that will offer an up-front rebate on the commission and there are full-service brokerages, with a lot in between.
Before I highlight what a full-service brokerage, like Windermere North, has to offer a seller I want to show you some numbers rooted in seller results. In 2021, my office, Windermere North, outperformed the market – we sold homes faster and at a higher return!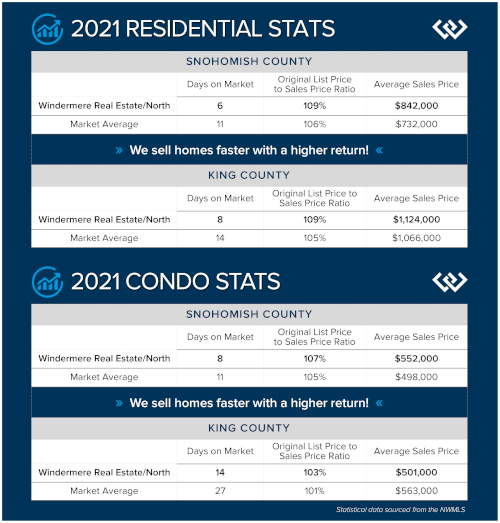 Even as we track our statistics so far in 2022, according to NWMLS data, my office's average list-to-sale price ratio for King and Snohomish Counties combined, including both residential and condo sales, was 114% and 4 days on the market. This compares to the average market results of 105% and 19 days on the market.
Our approach involves a strategic home preparation process, detailed price analysis, and keen negotiations. You might ask what type of negotiations happen when a seller is reviewing a stack of offers; actually, more than you know. Sifting through the terms of offers and vetting the buyers through rapport-building with their broker and lender helps us unearth who the most qualified buyer is to get into contract with. This takes extra time and skilled communication, but as you can see, these extra steps pay off for our sellers.
We also understand that getting a home ready for market can be a daunting task, but the upside is too measurable to ignore. We help our clients identify a punch-list of prep items and match them up with concierge-level service providers to help complete the work. Even if our sellers are limited in funds to prep their home, we have funds available for no up-front costs. Please reach out if you think this would be helpful.
Then the merchandising comes in (depending on the house): staging, professional photography, video, floorplans, print materials, and public exposure is planned and executed. Our listings hit the market perfectly positioned for buyers to see themselves living there and we invest in this on behalf of our sellers. We help connect the emotional dots that invoke buyers' lifestyle goals resulting in high returns for our sellers.
Lastly, perspective is key! Markets shift, ebbing and flowing. Pricing a home is strategic and requires analysis of the recent sales, historical seasonality, and current market trends. This research is done sifting through data, but also with intangible outreach to fellow brokers inquiring about their experiences and gleaning conclusions. Also, physically touring the inventory, whether I'm showing buyers or walking through to see for myself, helps me understand how a home measures up and what buyers are looking for. All of these steps are over-and-above the norm and help contribute to the results my office is producing.
If you are considering a move, make sure you align yourself with a trusted advisor who is willing to put in the extra work to get you the best possible results. Navigating an extreme sellers' market takes great skill and care to garner the best results. If done right, that skill and care will beat out any upfront discount a less-engaged broker will offer to win a listing. Make sure you consider the big picture, not just an immediate reward. Understand that who you choose to partner with to assist you with one of the biggest financial decisions a person ever makes is a very big deal. It is always my goal to help keep my clients well-informed and empower strong decisions. Please reach out if you think I can help you or someone you know, whether you are just curious about the market or you're ready to make a move.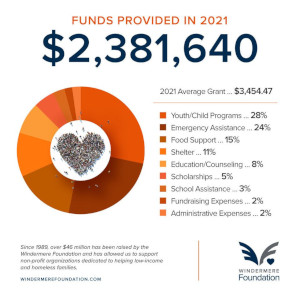 Cheers to 50 Years!
Fifty years of relationships, 50 years of giving back to our communities, and 50 years of growth. In 1972, Windermere Real Estate was founded by John Jacobi in the Sand Point neighborhood of Seattle, WA. Since then, Windermere has expanded to 10 states including Washington, Idaho, Oregon, Montana, California, Arizona, Nevada, Utah, Hawaii, and Colorado. Our network reaches over 300+ offices and 7,000+ brokers.  I can tap into our network of offices in the states above and I can also access Leading Real Estate Companies of the World beyond our Windermere network to help you find a like-minded broker for your out-of-area needs.
Even better, Windermere has donated just over $46 Million through the Windermere Foundation, giving funds back to the communities in which we serve. Windermere's collective goal in 2022, is to get the Windermere Foundation to the $50 Million mark to help commemorate this monumental anniversary. Here's to another impactful 50 years serving our communities through relationships, homeownership, and community outreach.